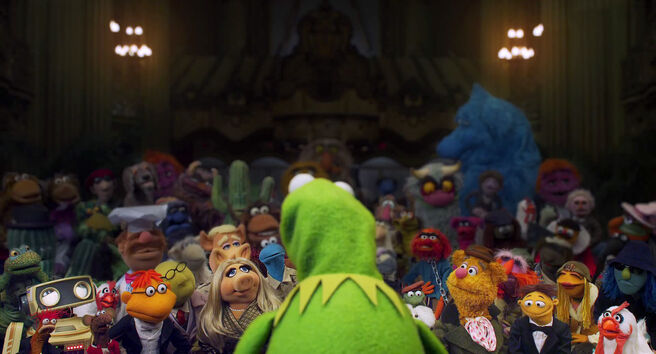 Photo via the Muppet Wiki, courtesy of Disney.
If you're a fan of The Muppets, the past twelve months have been a very good year. If everything works out, it could remain this good for a while longer. Production companies are realizing they can still make money off of puppets, and are cashing in.
BBC is in talks with Henson Studios, the originators of the Muppets, to create a new Saturday night chat show, currently titled No Strings Attached. Like any other chat shows, Leno, Letterman, Norton, and their kind, the show would feature interviews with celebrities, sketches, and monologue comedy. Unlike other chat shows, this one will be hosted by a new puppet creation from the premiere puppet factory. The show is expected to launch on BBC One.
As was reported just before the November release of The Muppets, NBC has ordered a pilot from Henson Studios, about a Southern California family whose neighbours are muppets (that's little 'm' people, it's important). Titled The New Nabors, I'd like to dispel something about these reports. This is not a new Muppet Show. You can tell because of the involvement of Henson Studios, not Disney. Disney owns the cast of The Muppet Show, the name 'Muppets', and all the TV and film rights to those characters. This will not be Gonzo and Kermit and their ilk living next door. From the description, this sounds more like ALF, which NBC aired in the 80s. Though considering how horrible ALF sounded behind the scenes, we should be shooting more for the Sci-Fi Channel hit Farscape, which was produced by Henson Studios, used muppets extensively, and was well loved by cast, crew and fans alike.
That does not negate a return of the Muppets to TV. The success of the film has caught Disney's attention, and as "marketing chief and channels manager for Disney in Europe, the Middle East and
Africa
," Tricia Wilber said at a recent conference:
"What we'd do is ask what's the right opportunity for the franchise. If you went down the television series route it could play on the Disney Channel but it could also play in primetime on a free-to-air network. We would look at a variety of different models."
I think the biggest mistake is thinking that The Muppets are just for kids. Fall down that hole, and the subversive quality of the Muppets is lost. They are for everyone. Have you ever actually watched an episode of The Muppet Show? They get some serious crap past the radar. Which was Jim Henson's intention, after the success of Sesame Street, to make a show with his characters, for adults. The pilot was called "Sex and Violence." That should be an indication of the initial content. So, Disney, if you want to move forward, don't treat this like a kids thing, which has been your problem since your bought the rights tot eh characters in 2004. It's why all those made of TV movies sucked, and why Jason Segal's didn't. He wrote the movie to appeal to himself. So treat a new Muppet Show the same way you would treat any sitcom, like ABC's own Happy Endings, or NBC's Community. Or, treat it like The Muppet Show.
It's time to get things started.