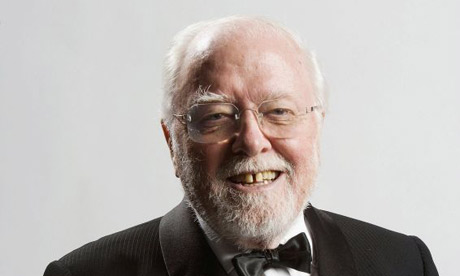 Richard Attenborough, Baron Attenborough of Richmond upon Thames, has died at the age of 90. Known as Dickie, Attenborough had a career which spanned six decades, stage and screen, in front of the camera and behind it. In 1982, he won the Best Picture and Best Director Academy Awards for his epic biopic
Gandhi
, beating out Steven Spielberg for
ET
, about which Attenborough later said "I was certain that not only would E.T. win, but that it should win. It was inventive, powerful, [and] wonderful. I make more mundane movies."
Behind the camera, Attenborugh's films tended towards political biographies, with the likes of
Young Winston
,
Cry Freedom
and
Chaplin
among them. In front of the camera, he was known for the energy and enthusiasm that, by all accounts, was his every day bubbly and indomitable spirit. In 2008, faced with the rigors of age and the recent loss of his daughter and grand-daughter,
the Guardian captured
a record of a man still fully in the throes of life.
His best known roles were almost certainly Roger Bartlett, the mastermind in
The Great Escape
, and as John Hammond in
Jurassic Park
, a role which saw him return to acting for the first time in nearly fifteen years. It is no exaggeration to say that part of what makes
Jurassic Park
such a successful film is the boyish enthusiasm that Attenborough brought to Hammond, a far cry from the villainous and cynical version of the character in the original novel. The same eternal charm made him arguably cinema's best Santa in the 1994 remake of
A Miracle on 34th Street
.
Attenborough was a titan of cinema, and his loss is a reminder that his kind is a rarity these days.