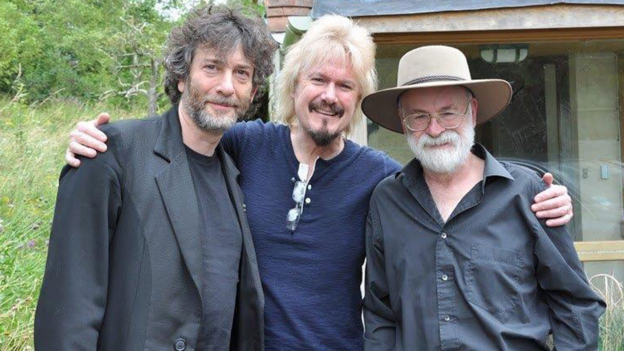 Despite some
very
minor issues, one of the highlights of last year was the
BBC Radio 4 adaptation
of Neil Gaiman's
Neverwhere
. And it was a whopping success, setting a record for Radio 4's website and logging 1.5 million iPlayer requests. In light of this, Gaiman and the Beeb have had the good sense to give it another go, this time with one of Gaiman's other beloved novels, one that, despite past attempts to adapt it to film and television, remains firmly in the realm of literature:
Good Omens
, which was co-written with the incomparable Terry Pratchett.
Good Omens: The Nice and Accurate Prophecies of Agnes Nutter, Witch
was Gaiman's first proper novel, and is my personal favourite of any of his works. It is also my favourite of Prachett's works, and one of those rare collaborations where the line between the authors is completely invisible on the page. There is no indication left by style or predilection of whose ideas are whose. For those unfamiliar with the novel, I suggest you make thee to your nearest book repository and correct this oversight forthwith. Those familiar with the clever tome know it to concern the Apocalypse as prophesied by a witch, and determined to be prevented by the unlikely friendship of an angel and a demon who have decided that they really rather enjoy the Earth and the humans who live on it. The radio series, to be broadcast one episode a night across a week of this coming December, will be written and directed by Dirk Maggs, who rocketed
Neverwhere
to success, and previously completed the
Hitchhiker's
Trilogy for radio.
The cast, while less "star studded" than the previous dramatization, is no slouch in the talent department. Mark Heap (
Spaced
) and Peter Serafinowicz (
Guardians Of The Galaxy
) will perform as the angel Aziraphale and demon Crowley, receptively. Joining them will be Josie Lawrence (
Skins
) as Agnes Nutter, Paterson Joseph (the original televised
Neverwhere
) as horseman of the Apocalypse Famine, and Colin Morgan (
Merlin
) as the witchfinder-in-training Newton Pulsifer. Additional roles will be played by Clive Russell (
Game Of Thrones
), Julia Deakin (
Spaced
), Louise Brealey (
Sherlock
), Simon Jones (radio and televised versions of the
Hitchhiker's Guide To The Galaxy
), Arsher Ali (
Four Lions
), Phil Davis (
Being Human
) and Mark Benton (
Waterloo Road
). The authors themselves will also appear, with Gaiman also lending a hand with the adapting.
And now I've got something to look forward to.
Via
the BBC
.