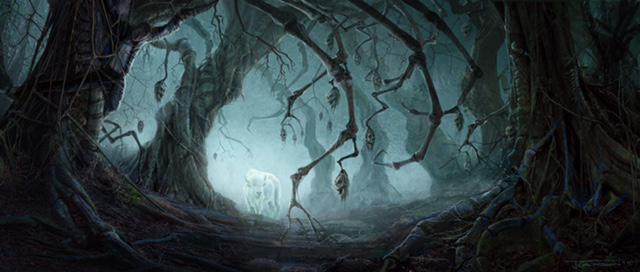 Starz has officially picked up
American Gods,
moving just that much closer to becoming a reality. Bryan Fuller (Hannibal, every other thing made of joy this past ten years) and Michael Green (Heroes) will serve as co-showrunners, and Neil Gaiman is on as an executive producer. Fuller says they have some very specific choices for casting, which has begun in earnest, and released this concept art above, which Gaiman gave his endorsement to on Twitter (it's of the Bone Orchard).
The official synopsis has also been released:
"The plot posits a war brewing between old and new gods: the traditional gods of biblical and mythological roots from around the world steadily losing believers to an upstart pantheon of gods reflecting society's modern love of money, technology, media, celebrity and drugs. Its protagonist, Shadow Moon, is an ex-con who becomes bodyguard and traveling partner to Mr. Wednesday, a conman but in reality one of the older gods, on a cross-country mission to gather his forces in preparation to battle the new deities."
That doesn't stray too far off the plot of the book, which can be good or bad (look at game of Thrones's five year history for the terrors inherent in adaption). Personally, I'm hoping that Fuller will bring some of the magic he's been working on Hannibal in terms of sticking with the characters while playing fast and loose with specific plot details. No release date has yet been set, but now that it's moving into the next level of production, I'd be surprised if it wasn't late 2016.
Via
Collider
.